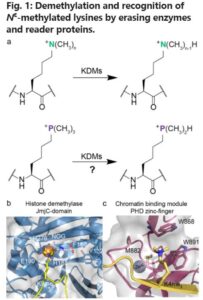 Congratulations to Roman Belle on the publications of 'Reading and erasing of the phosphonium analogue of trimethyllysine by epigenetic proteins'.
We are very happy to have published this work in great collaboration between academic groups in the UK, the Netherlands, Spain and Denmark.
Thanks to all involved: Jos J. A. G. Kamps, Jordi Poater, Kiran Kumar, Bas J. G. E. Pieters, Eidarus Salah, Timothy D. W. Claridge, Robert S. Paton, F. Matthias Bickelhaupt, Akane Kawamura, Christopher J. Schofield & Jasmin Mecinović.
The work was supported by the European Research Council, Cancer Research UK, EPSRC, Clarendon Scholarship, the Netherlands Organization for Scientific Research, the Spanish MINECO, and a World Bank Education Grant.
Read the full paper here.