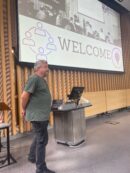 On Friday 1st July 2022 we hosted the second Chemical biology workshop at Newcastle University
Groups from across the faculty of medicine science and the school of natural and environment science presented a quick synopsis of their research with the aim to spark ideas for collaboration and more awareness of the diverse Chem Bio research happening at Newcastle University.
Ten academics delivered flash presentations on diverse areas of research (see below).
The talks were followed by a poster session where our early career researchers showcased their work and networked with colleagues from across the university.
Exploring mechanisms of kinase inhibitor resistance in MYC driven lymphoma, Neil Perkins, FMS
Understanding protein O-GalNAc glycosylation', Tom McAllister, SNES
Mining the microbiota for new glycan-active enzymes, Elisabeth Lowe, FMS
Selective Chemical Intervention in Plants, Rob Edwards, SNES
What could fragments do for me?, Martin Noble, FMS
NUDELs: DNA encoded library chemistry at Newcastle University, Mike Waring and Cameron Taylor, SNES
Searching for new targets in neurodegenerative disease with phenotypic screening, Kate Madden, SNES
Chemical biology of kinases, chromatin, and cell division, Jonathan Higgins, FMS
Selective breeding for heat tolerance as a tool to enhance coral reef resilience, James Guest, SNES
From bugs to crystals and back again, Paula Salgado, FMS