Delighted to share the first publication of our collaboration with Martin Munzel and colleagues at NovoNordisk
'An integrated platform approach enables discovery of potent, selective and ligand-competitive cyclic peptides targeting the GIP receptor'.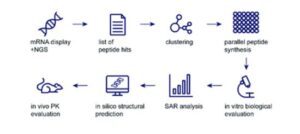 Thanks to all involved: Bhaskar Bhushan, Daniele Granata, Christian S. Kaas, Marina A. Kasimova, Qiansheng Ren, Christian N. Cramer,  Mark D. White, Ann Maria K. Hansen,Christian Fledelius, Gaetano Invernizzi,Kristine Deibler, Oliver D. Coleman, Xin Zhao, Xinping Qu, Haimo Liu, Silvana S. Zurmühl,b Janos T. Kodra, Akane Kawamura and Martin Münzel
The work was supported by a NovoNordisk STAR postdoc fellowship and the European Research Council (ERC) under the European Union's Horizon 2020 Research and Innovation Programme.
Read the full paper here.