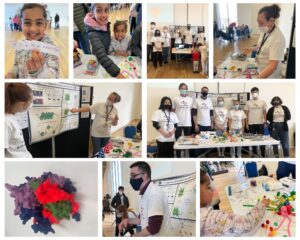 The Kawamura Group had a great day at the Great North Museum (GNM) Family Outreach Science Fair on 24th February 2022.
The fair was part of the series of events to mark 150 years of Science, Agriculture and Engineering at Newcastle University.  It celebrated the shared history of collaborations between GNM and Newcastle University.  Open to the general public as part of GNM's half-term programme, it involved a series of different activities showcasing research from across the faculty.
It was a fantastic opportunity to share our research and to engage the next generation of scientists. It was also a great opportunity for the PGRs in the group to gain some skills in presenting and outreach and translating our research in a way that is accessible to children. We had some very insightful questions and really enjoyed interacting with the families that visited our stall.
Our activity introduced epigenetics and why it is an interesting and important field of research. We illustrated through a range of models, props, and posters how epigenetics can help explain many natural processes through influencing which genes are activated, like:
why do identical twins look increasingly different as they age?
the transition of a caterpillar to a butterfly.
how a cell becomes cancerous.
We displayed a model of chromatin to show how its structure influences which genes are switched on.   We also played fun epigenetic inspired games to illustrate where chemical modifications take place, and how they affect the way your genes work.
Lovely to see so many children and adults learning about DNA and epigenetics!