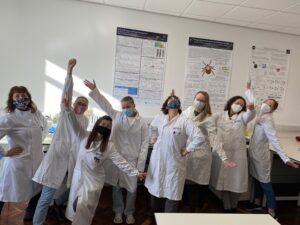 On International Day of Women and Girls in Science we are proud to celebrate the achievements of the intelligent, hard-working and passionate women in our group. 
We have welcomed several new female scientists to the team including PhD students; Filomena Saulino (Oct 2020), Emma Wadforth (Oct 2021), Oliwia Rebacz (Oct 2021), and masters students (Jan 2022); Valeria Cobiltean, Hannah Hamilton. PDRA  Marie-Helene Ruchaud joined the team in September 2021, she is currently developing quantitative cellular assays to investigate inhibitors of SARS-Cov2. Chiara Maniaci was awarded a prestigious BBSRC Discovery fellowship in February 2020 and continues to make great progress with her research. Joanna Bonnici returned to the group in June 2021 as a postdoc on the CRUK Programme grant, after completing her DPhil and giving birth to her beautiful baby daughter. Grace Roper is in her final year of her DPhil, working on multi-functional cyclic peptide project supported by the Oxford-GSK-Crick CDT Programme.
We also bid a warm farewell to Hilal Sarac and Loane Serrano who have gone on to pursue sparkling careers. Hilal left the group in November 2021 for an exciting role as a senior scientist at Cancer Research UK, Target Discoveries Laboratory in the Francis Crick Institute.  Loane Serrano an EPSRC Synthesis for Biology and Medicine CDT student successfully defended her DPhil (Oxford) thesis in December 2021. 
We are proud to have some fantastic role models in the group nurturing the ambitions of the next generation of female scientists and showing them that they can dream big and smash stereotypes! Check out this wonderful video from Akane's daughter about how resilience and experimentation paint the canvas that is Science: Science is a Canvas 
This is what a scientist looks like to Akane's daughter!  We must be doing something right!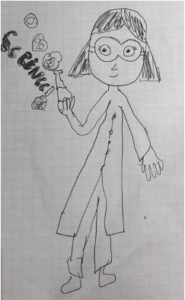 #WomenInScience, #GirlsInScience #February11 #EquityInScience