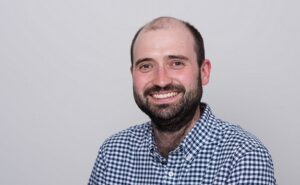 Earlier this month, Tom McAllister left his role as senior research associate in the group to start his prestigious five-year Royal Society University Research Fellowship.
He will develop new ways to understand how proteins and carbohydrates interact. Projects include determining how human glycosylating enzymes implicated in cancer recognise their protein targets, furthering our fundamental understanding and paving the way for new diagnostics or treatments. Another is developing a novel alternative mode of treatment for the wheat pathogen, Z. tritici the causative agent of septoria leaf blotch disease. Z. tritici causes losses of ~20% crop yield and current fungicidal treatment costs €1B/year in Europe alone – this research will allow the plant to 'fight off the invader' naturally, allowing better yield and more sustainable wheat production.
Tom said: "I'm really proud to have been awarded a Royal Society University Research Fellowship, which gives me long-term support over five years and the freedom to develop my own scientific ideas investigating the ways carbohydrates and proteins interact."
The University Research Fellowship scheme was established to identify outstanding early career scientists who have the potential to become leaders in their fields and provide them with the opportunity to build an independent research career.
Congratulations Tom!
For more information on Tom's research see his University profile here.