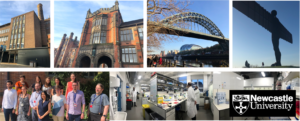 We are recruiting! If you are interested in joining a vibrant, friendly and inclusive chemical biology team and work in a brand new chemical biology lab in the heart of Newcastle city centre, please apply here.
We are looking to appoint two highly motivated and ambitious Research Assistants/Associates in Chemical Biology. We would like you to be suitably qualified with knowledge of:
–    Organic Chemistry / Chemical biology
–    Cell biology
This is an exciting opportunity to contribute to the Cancer Research UK programme funded work on histone demethylases (KDMs), a class of enzymes involved in epigenetic signalling. Dysregulation of some KDMs is strongly linked to cancer and some are proposed as current therapeutic targets. Despite the emerging biomedical importance of KDMs, substrate selectivity and the biological roles of KDMs are far from clear. We aim to carry out comprehensive functional assignments of JmjC family of KDMs, at biochemical and cellular level, and to develop and characterise inhibitors against epigenetic proteins.
Closes: 10th Feb 22